Support the web site, shop at our store!
Sponsors
About
Como Website
Bare Oaks
Turtle Lake
White Thorn
Lake Como's Super Bowl South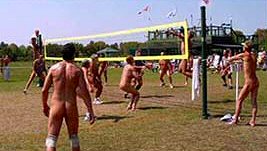 The inaugural Super Bowl South Mega Nude Volleyball Tournament was held at Lake Como Resort in March, 2002. The event started as an outgrowth of the well know Volleyball Superbowl, held at White Thorn Lodge, in Western Pennsylvania, the weekend after Labor Day. The birth of Super Bowl South began with minimum promotion, a bare bones budget, and volleyball equipment borrowed from Cypress Cove.
The first year attracted 13 teams from the U.S. and Canada with 101 registered players and many more spectators. The teams played on four grass courts set up next to the state of the art clay tennis courts in Lake Como's "West Grove". The enthusiastic response of the players and visitors made it obvious that this tournament would become a yearly tradition. Preparations for the second tournament began the day after the first one ended. The Board of Directors of Lake Como authorized the use of the West Grove (20 acres) to include a volleyball center on one side of the clay tennis courts and a golf driving range on the other side. That area of Lake Como is now known as the West Grove Nature Park and Sports Center. All projects in the West Grove are independently funded, nature friendly, and quality built.
In preparation for permanent volleyball courts, orange trees had to be removed and 28,000 square feet of sod were laid for four grass courts. The grassy area south of the tennis courts is the home of four additional grass volleyball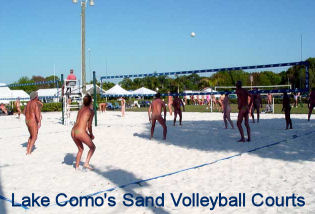 courts for a total of eight grass courts and two sand courts. The original sand court close to the Butt Hutt lakeside bar and the hard surface multi-purpose court near the 35-acre lake provide additional volleyball opportunities.
In 2004, Super Bowl South expanded to a 10-day event: starting with 3's and 4's on the initial weekend; pickup games, 3's, 4's, coed 4's, and women's 6's during the week; and culminating with the two day 6's tournament on the second weekend.
# of participating teams since starting the 10 day schedule in 2004:
2004
2005
2006
2007
2008
2009
2010
2011
2012
2013
2014
2015
2016
2017
Sat 3's
16
16
17
10
8
12
9
11
12
13
15
11
13
11
Sun 4's
23
16
14
12
9
Rain
8
13
11
12
15
13
11
14
MidWeek 3's
14
14
15
11
13
14
6
13
12
16
15
10
10
11
MidWeek 4's
26
29
22
18
16
17
13
18
16
18
16
15
17
22
Coed 4's
--
23
23
25
22
22
27
15
26
32
23
27
26
32
Women's
--
4
2
3
5
4
8
8
8
8
7
7
8
6
Main Event 6's
29
31
28
27
30
26
27
29
31
35
33
36
32
45